The Absent Friends Cast in Paris
at the Studio Galande
The happy years...

I joined the Absent Friends on March 11th, 1994,
and stayed with them a couple of years,
before I switched to the Zen Room Cast.
These are pictures from that era
and happy memories indeed!


THE CAST :
Frank-n-Furter : Florent
Janet Weiss : me
Brad Majors : Nicolas
Riff-Raff : Jean-Baptiste
Magenta : Johanna
Columbia : Marie-Dune

N.B. I started out as Magenta,
then was Janet for quite a while,
then became Columbia when Marie-Dune left.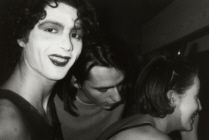 Florent, Nicolas, Marie-Dune.





Marie-Dune or Columbia?





This picture appeared in Sal Piro's
Creatures of the Night II, page 115.





Marie-Dune, Jean-Baptiste, me, Nicolas.





Marie-Dune, Nicolas, me, Jean-Baptiste, Florent.





Florent, Jean-Baptiste, Johanna, Nicolas.





Johanna, Florent, Jean-Baptiste, Nicolas.





Nicolas and his magnificent Y-front.





Florent and a spectator, Studio Galande.





Roberto playing the odd Rocky at Sciences Po
(we toured a couple of colleges with the Show at some stage).





Florent in the elevator at Sciences Po.
---
Retour à la page principale du RHPS
Back to the RHPS main page
---
RETOUR À LA MORTHICIA'S MIDNIGHT PAGE | BACK TO MORTHICIA'S MIDNIGHT PAGE