Chicago Pizza Pie Factory in Paris
- Rocky Horror Show, 1994-95 -

This show was performed every Thursday evening for a while,
and the staff played along, just as we joined in their Grease routine.
The cast was made up of Zen Room members (Béa, David, Gaëlle,
and sometimes Laurent) as well as friends.
They called themselves "The French Lips".


THE CAST :
Frank-n-Furter : David Bolling
Janet Weiss : I forgot her name... sorry!
Brad Majors : Jean-D.
Riff-Raff : Nathalie / Laurent Hagimont
Magenta : Béatrice
Columbia : Gaëlle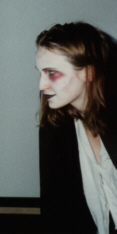 Proof that girls can sometimes make great Riff-Raffs!





Nathalie.





Nathalie.





The French Lips' Show included some impersonations
(Boy George, Serge Gainsbourg, etc.)
and one of their numbers was "La Salsa du Démon" (The Demon's Salsa),
a crazy song from 1980 or so where three characters
(Belzebuth, Vampirella, and the Witch) were pretty... undressed!
Here, David plays Belzebuth and Béa is Vampirella (Gaëlle did the Witch).
---
Retour à la page principale du RHPS
Back to the RHPS main page
---
RETOUR À LA MORTHICIA'S MIDNIGHT PAGE | BACK TO MORTHICIA'S MIDNIGHT PAGE